FLUID FILM® is the Exceptional Choice for Automotive Applications
The destructive force of corrosion is the single greatest threat to your vehicle. Consistent exposure to a wide range of elements such as sun, rain, wind and snow can lead to rapid deterioration of metal, not only resulting in poor appearance and loss of value, but hazardous safety issues as well. Road salt, brine and debris also kick up and cling to vehicle under-bodies, eating away at metal and electrical connections.
FLUID FILM® is manufactured using an intricate heating and blending process, which combines unrefined wool wax with selective polar agents and corrosion inhibitors, creating a unique, lanolin-based formulation that stops existing rust on contact. Penetrating on contact, it creates a fluid, self-healing barrier that is always active and will not chip or crack, protecting vehicle undercoating's and exposed metals for extended periods of time. Safe for use on all metals, it will stop pitting in chrome, will not harm most paints or plastic, and has exceptional lubricating properties, penetrating to stop squeaks and provide lasting lubricity for all moving parts. Electrically non conductive, FLUID FILM® has a high flash point and a thin, flexible composition, making it a perfect protectant for battery terminals and electrical connections.
Care should be taken around non oil resistant rubber goods. May cause swelling. FLUID FILM® may soften some vehicle undercoatings. This includes undercoating type paints. Check with dealer/manufacturer for compatibility.
All Applications Listed
All Nuts, Bolts & Studs
Aluminum Housings
Automotive Lift Chains
Bearings
Brake Cable (emergency) and Speedometer Cable
Brake Levers
Car Jacks
Car Trailer Extension Slides
Chassis Squeaks
Chrome
Clamps
Detailing Engine
Distributor Cap Water Prevention
Door Hinges, Opening & Locking Mechanisms
Electrical Connections
Engine Fasteners
Exterior Light Housing Assembly
Fifth Wheel
Fittings
Free Up Seized Parts
Hinges
Hood & Trunk Mechanisms
Hub Caps
Inhibits Insects from Sticking to Paint, Bumper & Front End Grill
Jack Stand
Latches
Locks
Motorcycles
Preservation Inside Doors
Rocker Panels
Roller Tracks
Rusty Exhaust Bolts
Seat Moving Tracks
Slide Pins
Sliding Doors
Spare Tires
Springs
Steering Swivel Spring Seats
Throttle Cables
Tools
Tow Truck Winch & Cable
Trailer Attachments
Uncovered Springs
Under Wheel Arches
Undercoating
Wheel Lugs
Wheel Wells
Window Mechanisms
Wire Tie-Downs
Applications in the Automotive Industry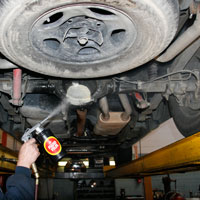 Automotive Undercoating Tutorial
FLUID FILM® penetrates to the base metal, providing a lasting, protective barrier from the corrosive effects of salts, calcium and sodium chloride, pesticides and fertilizers. Offering an easy "no drip" application, FLUID FILM® offers a cheaper and more effective alternative to the standard hard-underbody coatings. Protecting undercoatings from metal deterioration, FLUID FILM® also remains soft and pliable, making it self-healing, non-drying, and impossible to crack. FLUID FILM® migrates to inaccessible areas, providing up to a full year of solid protection. A gallon of material should cover approximately one vehicle.
FLUID FILM® may soften some vehicle undercoatings. This includes undercoating type paints. Check with dealer/manufacturer for compatibility.
To learn more about how to apply FLUID FILM®, check out our spraying and removing page.
I use FLUID FILM as an undercoating and have been very impressed with the performance. It is so good that it's hard to wash off, even with a pressure washer. It leaves a waxy film that is unaffected by road salt and it works great in hard to reach areas like inside doors and steel brake lines. This is the best stuff I have found for protecting my vehicles.
Gene L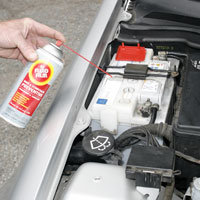 FLUID FILM® is non-conductive, so clean around battery terminals, make connections and then spray with FLUID FILM®. The non-drying characteristics of FLUID FILM® provide long-term protection in this application. FLUID FILM® also keeps battery hold downs from corroding. Unprotected terminals can lead to corrosion of the wiring harness, resulting in expensive repairs.
I am an auto shop manager fulltime. I have used FLUID FILM as a tap lubricant, injector ring lube, drill lube, battery terminal/cable corrosion eliminator, and a host of other daily applications. Thanks FLUID FILM, you have given me more of the only thing I have to sell – my time.
Brendan Smith
Protects and shines all chrome, such as rims and wheels, and keeps bugs from sticking to chrome bumbers. The non-drying characteristics of FLUID FILM® provide long term protection in this application. FLUID FILM® will stop pitting in chrome and protect chrome wheels from brake dust deterioration.
I gotta say, this is the best stuff I have ever used to clean my front rims hands down! I have bought the specialized stuff at the car parts stores that say they're specifically for cleaning rims. I have tried soap and water with a scrub brush and elbow grease, and my rims always came out kind of clean but dull. I figured I'd try it out on my front rims that are always getting dirty with brake dust. I sprayed it on and came back 20 minutes later and started to wipe it off with a shop towel. I was just expecting it to get the brake dust off, but my factory rims are actually shiny again.
Testimonial from F150 forum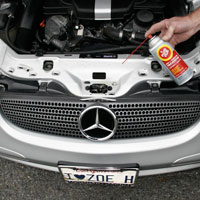 FLUID FILM® provides slick, lasting lubrication that could last up to 36 months in locks, or hinges and seat tracks under normal operating conditions. It also keeps locks from freezing, even in sub-zero temperatures. A small amount is all that is needed to keep locks buttery smooth. Great for fixing problem locks.
I purchased a 97 pick-up. The door locks were hard to work with a key. The drivers door lock would not work at all. Put the key in and try to turn, nothing happened. The passenger door worked after moving the key slightly in and out to get in just the right spot. The tailgate would not unlock at all. I thought I was going to have to replace all the locks. A friend had a can of FLUID FILM and we tried it. One spray in each lock. It bubbled brown bubbles out of the key holes. When I tried the key, all the locks worked like new. That was about seven months ago, and they are still working like new locks. A few months ago, another friend had a pad lock that was rusted and would not open. One spray of FLUID FILM and it opened. I think I'll open a lock repair shop. I could make a mint with one can of FLUID FILM Rust & Corrosion Preventive.
David Clemenson