The Perfect Answer to Recreational Equipment
FLUID FILM is the perfect product for recreational equipment. For hunting and fishing gear, FLUID FILM provides a natural corrosion coating that displaces water and moisture, working in all weather and salt-water environments. From water-fowling outings to deep-sea fishing, FLUID FILM protects guns and rods from rust and corrosion and provides long term lubrication to the tiniest of moving parts. For motorcycle chains and off-roading vehicles, FLUID FILM provides a barrier of protection from mud and dirt, making a great chain lube where dirt will not build up and where clean up is just a rinse away. Use FLUID FILM today for all your recreational gear.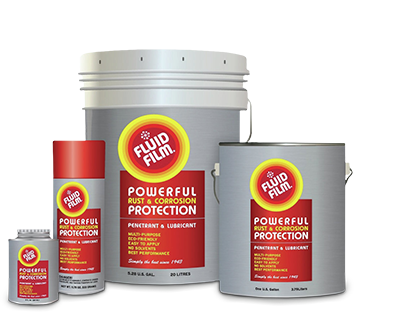 All Applications Listed
ATV's
Baseball Mitts
Bicycles
Boats
Boat Trailers
Camping Equipment
Dirt Bike Swing Arm Bushings
Exercise Equipment
Firearms
Fishing Reels
Golf Clubs
Jetskis
Knives
Leather Hunting Boot Conditioner
Motorcycle Chains
Roller Skates
Outboard engines including interior housing from salt spray
RV's
Saddles
Scooters
Skateboards
Snowmobile
Treadmill Belts
Applications in the recreation Industry
Use FLUID FILM to lubricate bottom brackets, derailleur, headseats, hubs, seat posts, nuts and bolts, gears, levers and brake cables. FLUID FILM is also an excellent chain lube. Spray on a light coat then wipe off excess. It provides lasting lubrication that penetrates to the inner pin and will not get tacky. FLUID FILM keeps chains from binding, freezing and getting a heavy dirt buildup.
First thing I noticed with FLUID FILM was how much it reacted with the general gunk that bike chains, gears, derailleur, etc. tend to pick up. It started fizzing and foaming on contact. Next thing I noticed was my rear derailleur that's been giving me fits when shifting in to higher gears started working much better. My chain also had some links that were stiff. After applying FLUID FILM those worked themselves loose within a few minutes of riding. I just don't see how you can go wrong with this stuff. It works great on bikes and anything else as well.
Jerome from Ohio
Spray FLUID FILM over entire engine, electrical connections, fittings, plugs, locks, cables, linkage, gears, any metals for rust protection. FLUID FILM shines up plastic and protects and shines metal railings. Excellent protectant for winterizing. On boat trailers, apply to all electrical connections for lighting system, suspension leaf springs and spring hangers, hull rollers (bearings or bushings), hitch coupling connections, ball hitch, height adjustors, winch, and any exposed metals.
I have had the opportunity to use your non-solvent based FLUID FILM and am impressed with the results. This past spring I used it on the engine of my off-shore racing boat. Since that time I have put sixty high speed hours on the engine and it continues to work well. It certainly has been superior as a lubricant and rust preventative, but it is also a bonus to me that it is environmentally safer as well. I suspect that I will not have to apply it again until the next racing season.
Spence Andrews
Spray FLUID FILM on a rag and then rub down the firearm, leaving a thin film which will not leave fingerprints or come off on hands or clothes. Provides tack-free mechanism lubrication. Use on bolts, slides and magazines. Will not affect the bluing. Conditions wood-stock. Excellent for use on black powder firearms and for moisture prevention.
So, I dragged out a pistol that had been used hard and put away wet; I sprayed FLUID FILM on it and BAM! Not only did the dirt and powder residue bubble off the metal; it actually cleaned the copper fowling out of the barrel without using a wire bore brush. It's not often that you come across something that works better than advertised; but FLUID FILM fits that niche. It also lubricates with a thin film that does not change viscosity due to temperature. That's a plus for cold weather shooting in a salty duck marsh.
Capt. Walt, New England Charters
Spray FLUID FILM over the entire engine, electrical connections, throttle body (exterior), reverse lever cam, cables (pump it in throttle cable), ride plate/nozzle, and steering bearing. You can also use it to detail plastic trim.
I use Fluid Film after each jet ski ride to ensure metal, plastic, and other components stay rust and corrosion free. Fluid Film is great on all moving parts and does not dry out plastics like other rust inhibitors. If you are looking for the best in long lasting protection, look no further
Mike M