FLUID FILM® Battens Down the Hatches on Corrosion
FLUID FILM® Powerful Performance begins with the natural moisturizing and water-repelling properties of lanolin, natures own protector from the harshness of rugged climates and environments. FLUID FILM® coatings create an airtight shield that safeguard metals in the most corrosive of atmospheres, yet remain safe on most paints and plastics. Pliable, active and slick, FLUID FILM® soft-coatings penetrate and migrate without evaporation, leaving an expansive, non-conductive film that is highly resistant to water wash off and corrosive elements.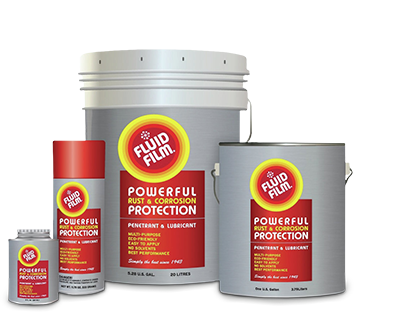 All Applications Listed
Gears
Ground Tackle
Guides
Hinges
Levers
Locks
Nuts & Bolts
Outboard Engines including interior housing from salt spray
Pulleys
Rollers
Sail Slides
Stanchions
Steering
Tackle Boxes
Throttle, Steering and Shift linkages
Thru-Hull Fittings
Winches
Windlasses
Wire Rope
Applications in the Boating Industry
Apply FLUID FILM® to all electrical connections for lighting systems, suspension leaf springs and spring hangers, hull rollers (bearings or bushings), hitch coupling connections, ball hitch, height adjusters, winch, and any exposed metal.
I recently had to replace the leaf springs on a used boat trailer. Leaf springs cannot be coated with any success due to flexing. I researched various products and chose FLUID FILM. After a year the springs still look like new after many immersions in salt water.
Jonathan Costello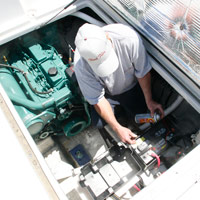 FLUID FILM® is non-conductive, and will not harm electrical connections. Make sure that connections are made before applying FLUID FILM®. Will protect both the fuse block and the end connectors.
Lightly coat to protect from salt spray. Use FLUID FILM® to lubricate screws, bearings, cogs, drag washers and as a protective coating.
Running fishing charters on Lake Michigan can really put your gear through the worst. Each year I would grease the bearings/drags etc. but I was having problems with corrosion on the graphite / titanium parts of the reels. You figure their use, being wet, being dry, and baking in the summer sun, this would damage anything. I picked up a can and tested it out on three reels (inside and out). They not only look brand new but act brand new as well. So I used Fluid Film on all the reels (about 36) and have kept them on the back of my boat through rain, intense sun, dry conditions, cool to hot etc. and they still look the same…excellent! You definitely have a customer for life. Thank you!
Capt Tom Pataska