Product Data: #210.1
Effective November 2013
1 gal/4 CTN
8030-01-381-7311
Technical Data Sheets | FLUID FILM Liquid AR
Fluid Film Liquid AR is a non-toxic, lanolin-based soft gel coating. It is used primarily in the heavy marine industry, and is useful in preserving parts in storage or during shipment. It is also used in the maintenance of aircraft, heavy equipment, and automobiles.
Liquid AR can be applied using an Alemite 7896 pump (22/1 ratio) and a flow gun, or
Graco King, 30 to 1, roller, brush or grease gun.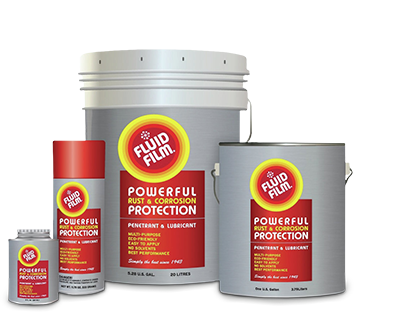 FLUID FILM Liquid AR Details
Specific Gravity
0.910 - 0.920 (77°F)
Flash Point ASTM-D92 Cleveland Open Cup
157°C (315°F)
VOC. CARB 310
Less than 0.1%
Viscosity (Typical)
Brookfield HBF Spindle #5, 70°F
RPM 5
Poise 1792
Stokes 1969

Effect on Copper, Brass
No staining.
Effect on Rubber
None on neoprene and buna-n. May cause swelling on non oil-resistant rubber goods.
Note 1: The use of anodes in tanks coated with LIQUID AR is considered an unnecessary expense and redundant to the purpose and function of the coating.
Note 2: When welding in tanks coated with LIQUID AR, wipe material back a distance of 1.5 meters (5 feet) from where hot work is to be performed and from the deck area beneath the hot work. See Technical Bulletin #202.2.
All components of FLUID FILM® LIQUID AR are listed on the TSCA Inventory.
KEEP OUT OF REACH OF CHILDREN.
This document is subject to revision without notice.