FLUID FILM, an Eighteen-wheelers Best Friend Down the Long, Lonesome Highway
Fighting chemicals used to keep roadways safe are drastically increasing metal exposure, resulting in a major influx of corrosion-related issues. Truck bodies, electrical connections and trailer wiring are all failing at unprecedented rates. With busy driving schedules and cross-country routes, maintenance products need to provide durable protection and lubrication to avoid costly repairs.
FLUID FILM's soft, self-healing coating protects all metals, wiring systems and truck underbodies from the effects of these chemicals. Its slick, non-drying film also provides lasting lubrication for all moving parts and ends annoying squeaks. FLUID FILM is not water soluble, resisting splash off from water, slush and mud during driving.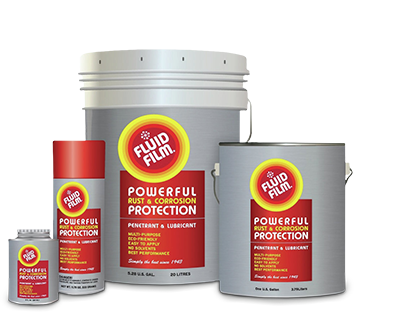 All Applications Listed
Battery Terminals
Bolts
Door hinges
Frames
Fuel tank clamp and supports
Fuse Panels
Hood and trunk mechanisms
Jack up stand
Locks
Rollers
Seat tracks
Slider pin and springs
Studs
Tail light assembly
Tire Beads
Trailer Wiring
Underbodies
Applications in the Trucking Industry
FLUID FILM is non-conductive, so clean around the battery terminals, make your connections, and then spray with FLUID FILM. The non-drying characteristics of FLUID FILM provide long term protection in this application. FLUID FILM also keeps battery hold downs from corroding.
I started using FLUID FILM over 9 years ago. One of my favorite uses is protecting electrical systems on my trucks or commercial ztr's. When applied, FUID FILM stays where it's sprayed, and it never stops eating rust or protecting the surface it's used on. It repels water too. I noticed over time I have extended my Battery life on all my equipment & vehicle several years beyond what "other" name brand lubricants or corrosive protection products "claimed" to do.
Midsouth Lawn & Landscape
FLUID FILM protects electrical connections and battery terminals for extended periods of time. FLUID FILM is non-conductive and can be used as a dielectric grease.
It works very well on electrical connections. My plow installer used it on all of the connections he made on the install and there isn't any corrosion at all appearing on the connections again after 2 years.
W.F.
FLUID FILM penetrates to the base metal, providing a lasting, protective barrier from the corrosive effects of salts, calcium and sodium chloride, pesticides and fertilizers. Offering an easy "no drip" application, FLUID FILM offers a cheaper and more effective alternative to the standard hard-underbody coatings. Protecting undercoatings from metal deterioration, FLUID FILM also remains soft and pliable, making it self-healing, non-drying, and impossible to crack. FLUID FILM migrates to inaccessible areas, providing up to a full year of solid protection. A gallon of material should cover approximately three vehicles. Apply with standard undercoating gun or airless paint sprayer. You could purchase the undercoating gun we tested and recommend HERE.
I sprayed FLUID FILM on the suspension components of my Dodge Ram in the fall, to see how effective a shield it might be. I am pleased that after one 4000 mile up and down the coast, several thousand local miles through snow, ice, rain, too much road salt, and intense pressure washings to clear road grits and salts, the FLUID FILM remains in place. Neat stuff!
Ray T